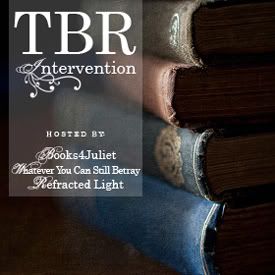 TBR Intervention

is a weekly challenge
hosted by Dani@RefractedLight , Ayanami@Whatever you Can Still Betray, and April@Books4Juliet
The goal of this challenge is to help each other (fellow readers and bloggers) manage our enormous and constantly growing TBR (To-Be-Read) List. The rules are simple and everyone is encouraged to participate. It does not force you to commit to more than what you can manage to read in a week or so, but participants are encouraged to read at least one book within a week. You are free to choose the book you want to read and commit to this challenge. You may post your entry every Saturday, at the frequency of your choice--EVERY WEEK or EVERY TWO WEEKS. However, we will sponsor this event regularly every Saturday.


Here are the rules:


1. Post the book(s) you committed to read in your last TBR Intervention post and tell us something about it. Did you finish it? Did you enjoy it or not? Post the link to your review (if you have one).


2. Post a book that you want to read and already own. Pick something that has been sitting on your shelf for too long now (6 months or longer). Commit to read the book in the next couple of days or week.
3. Grab the TBR Intervention Button and post it on your blog sidebar so you will be constantly reminded of the challenge, making it easier for you to commit. This will also encourage other readers/bloggers/visitors to join the challenge.


4. Add the link to your post in the Linky below and make sure to visit the other blogs. Comment, encourage, and spread the love to our fellow readers.
So, this is our first post. I sincerely hope to dwindle my TBR pile a little bit. Chances are I will just end up adding to it, though.


The book from my TBR pile I commit to read is...


Redemption isn't a word Jim Heron knows much about-his specialty is revenge, and to him, sin is all relative. But everything changes when he becomes a fallen angel and is charge with saving the souls of seven people from the seven deadly sins. And failure is not an option. Vin DiPietro long ago sold his soul to his business, and he's good with that-until fate intervenes in the form of a tough- talking, Harley-riding, self-professed savior. But then he meets a woman who will make him question his destiny, his sanity, and his heart-and he has to work with a fallen angel to win her over and redeem his own soul.
Reason - I have many of J.R. Ward's books on my TBR pile and keep hearing all kinds of wonderfully amazing stuff about her. Another blogger mentioned her Fallen Angel series so I figured I would start there.
My problem with books I already own, is I read them immediately. Well most of them at least. I do have a couple I haven't read yet, but they aren't that old. Might as well get them knocked off my list anyway!
My first choice is...
Love ties them together. Death can't tear them apart.
Best. Birthday. Ever. At least, it was supposed to be. With Logan's band playing a critical gig and Aura's plans for an intimate after-party, Aura knows it will be the most memorable night of her boyfriend's life. She never thought it would be his last.

Logan's sudden death leaves Aura devastated. He's gone.

Well, sort of.

Like everyone born after the Shift, Aura can see and hear ghosts. This mysterious ability has always been annoying, and Aura had wanted nothing more than to figure out why the Shift happened so she can undo it. But not with Logan's violet-hued spirit still hanging around. Because dead Logan is almost as real as ever. Almost.

It doesn't help that Aura's new friend Zachary is so understanding—and so very alive. His support means more to Aura than she cares to admit.

As Aura's relationships with the dead and the living grow ever complicated, so do her feelings for Logan and Zachary. Each holds a piece of Aura's heart...and clues to the secret of the Shift.
Reason...
Everyone is raving about these books and when I initially saw them...I thought - nah...not interested. However, the more reviews I read, the more I knew I had to read them. I think the covers are amazing and decided to buy both Shade and Shift in hardcover. I've had them for about two weeks (and yeah, they are the books I have owned the longest without reading) so now is as good of a time as any to start them.