Okay everyone. Get your fingers ready to do some heavy voting. Alex from Half-Blood is in the YA Heroine Tourney over at YA Sisterhood. She's up against Katniss! Eeps. I'm a little scared. But...Jennifer L Armentrout...the author is offering up some pretty great incentives. There are also some great giveaways going on around the blogosphere. I will list them here so you can find them easily.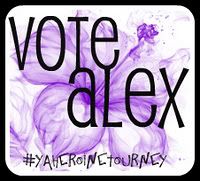 Valerie over at Stuck In Books has an awesome guest post from Katy, blogger extraordinaire from Obsidian, explaining to Daemon why you should vote for Alex...and a giveaway. She also lists the "incentives."
MoMo at Books Over Boys is Alex's official advocate. She has done a wonderful job and I totally expect her to end up in Twitter Jail several times before this tournament is over.
Need reasons why...check out Jennifer's Official Blog and see what she did last round.
Find my review of Half-Blood here! And...I have read Pure. To die for! So go make this happen for Alex. I promise she deserves it.