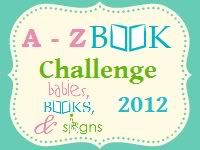 This seemed like a fun challenge hosted by
Babies, Books, and Signs
so I thought I would play a long. I mean all books have titles...right?
So there are two different ways you can set up your own A-Z challenge.
A - Make a list now of 26 books, picking one for each letter of the alphabet. For example: A - Atonement B- Black Beauty C - The Count of Monte Cristo D - Dances with Dragons etc.
OR
B - The lazy way (how I do it) : Make a list on your blog from A-Z. Throughout the year, as you go along, add the books you are reading to the list. Hope that by the end of the year you have read one book for each letter. Towards the end of the year, you can check and see which letters you are missing and find books to fit.
A:
B:
C:
D:
E:
F: Fracture by Megan Miranda
G:
H: Hallowed by Cynthia Hand
I: If I Die by Rachel Vincent
J:
K:
L: Lola and the Boy Next Door by Stephanie Perkins
M:
N:
O:
P:
Q:
R:
S: Seeds of Discovery by Breanna Puttroff
T:
U:
V:
W:
X:
Y:
Z: